Fabulousness, right? I'm so excited to share this two piece high waist swim suit with you. This suit dates to the late 1940s and was made by Gantner. Many people think that these bright neon colors only came out in the 1980s, but they have been around for much longer than that. I've been curious about the process, color and naming of this suit so I was tickled 'pink' when I looked up the trademark patents on the label and found some fabulous information.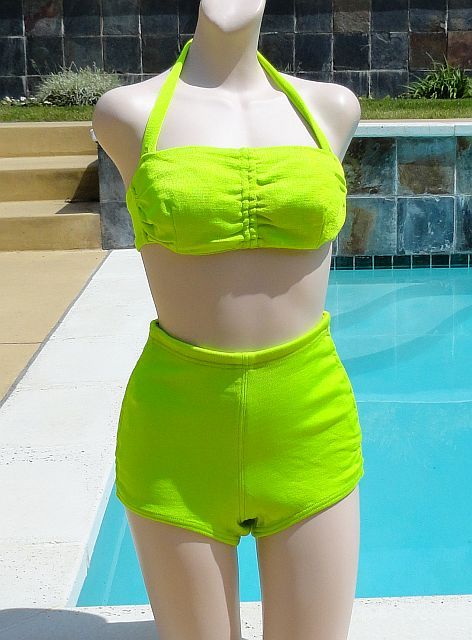 Gantner Coldfire Glo Suit of Gantron Fabric
Patent 2450085 - dated 1948
The
patent information
is available on line, I had to go install an applet to make the images work, and then voila, I was able to copy and show the info to you here. As always, you can click on the image to enlarge it.
There are two patents on this suit, we focus on only one of them today. A few snippets from the information provided:
"Another object of invention is a swimming suit having one or more panels of a luminescent fluorescent or a phosphorescent material."
"Inexpensive to manufacture, attractive and striking appearance, increased visibility in and out of water, and a resulting increase in safety factor."
"Because the use of a florescent material as a substantial part of the garment, ultra violet light rays received by the material are converted into visible light, with the result that the converted rays are given off by the material as added illumination."
And they were fairly inexpensive in 1948.
The other patent explains the process and fabric in more detail. So there you go, perhaps more info than you ever wanted, but the info is there if you need it. And for gals like me, I just love it and get all fired up! We just listed this swimsuit on
Glamoursurf
, go have a gander. Oh, and did I forget to mention that the sides of the suit are adjustable?